💰SALE: 5% OFF for New Customers. Discount Code: SALE2023
Dragonhawk Mast Archer Max Wireless Tattoo Pen 4.2mm Stroke Length
Regular Price

$192.00

Sale Price

$192.00

Regular Price

Unit Price

per
Dragonhawk Mast Archer Max Wireless Tattoo Pen 4.2mm Stroke Length 

Mast Archer wireless rotary tattoo pen machine has a visible LCD voltage screen and easily adjustable voltage.

It takes 2 hours to fully charge, runs for upwards of 8 hours, has a standard 4.2mm stroke length, and works as a liner or a shader.

Effortless to cover and protect. Efficient cartridges were changed and replaced.

This wireless tattoo pen has an advanced gear system that smooth, soft, and quiet operation, Ideal healing results. Flexible and lightweight for every style Gently and smoothly transfers ink to the skin; suitable for all skin types.

The package includes one Mast Archer wireless machine, USB-C fast charge cord, two replaceable grips, gift box.
Specifications:

Net Weight: 186g

Machine Diameter: 32mm

Machine Length: 132mm

Stroke Length: 4.2mm

Speed:12V/10500Rpm

Working Voltage: 5-12V
Related Products:
Dragonhawk product warranty service terms
Dragonhawk Tattoo Supply offers one-year
 warranty

for all tattoo machines.

1. Regarding warranty information
Thanks very much for purchasing and supporting Dragonhawk products. Please contact our customer service service@dragonhawktattoos.com directly when there is a problem with the product you received. We provide one-year warranty service for machines and power supplies. The customer team will verify your situation by email. Please provide the order number, product pictures, video when submitting the warranty verification email. These Info can speed up the verification. The audit result will be sent to you by email.

2. Regarding the warranty requirements

For products that are non-artificial damaged, Dragonhawk will provide effective warranty services. We do not provide warranty service in the following situations: 
⑴. The product was seriously damaged due to falling to the ground. 
⑵. The product was soaked in liquid. 
⑶. The product was disassembled and modified privately


3. Regarding exceeding service time situation

Please don't worry, if the Dragonhawk product you purchased is damaged after one-year. The Dragonhawk service team will provide paid maintenance product services. Please contact the service team via email service@dragonhawktattoos.com. And please provide the order number and product pictures in the meantime. The service team will notify you of the maintenance cost and logistics cost by email.

Hope to be noticed:

1. If the machine breaks within 30 days of receiving the order and is still not repaired after contacting customer service, we will send you a new machine for free.
2. If the machine breaks within the warranty period, we will provide free maintenance. The problem of machines can't be solved through remote support; you can ship the machine to our maintenance address for free maintenance. Meanwhile, the buyer will pay the shipping fee for sending it back.
Customer Reviews
Write a Review
Ask a Question
Not stable
At first I really liked this machine, felt it was pretty punchy and nice to push lines with. But stopped using it after a couple of weeks. I noticed the needle is not 100% stable, there is a tiny side movement in the grip, and also when fingers are pushing the side of the cartridge while tattooing it affects the movement of the needle inside the cartridge, sound and speed changes. Might still be good for shading but not for precise fine lining. I like the WJX cartridges though.
04/11/2023
Dragonhawktattoos
Hi, if the needle is not stable, please check if it's installed correctly.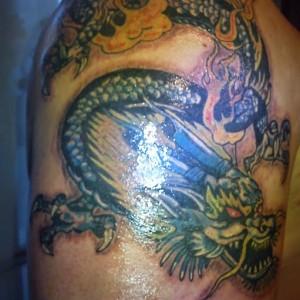 J
01/20/2023
Jacek
Mast Archer max 4.2 mm
Maszynka jest rewelacyjna. Jest mocna, cicha, bateria ma długą żywotność, jest dobrze wyważona . Po prostu same plusy
09/16/2022
Niccy L.

United Kingdom
Stunning machine
Absolutely in love with this machine. Easy to use, delivery was super fast and I use it for both big and fine lines. The best value for money machine I've used.
07/08/2022
Donald K.

United States
It's a decent machine! But in all honesty I think the original Archer was a little better simply because of battery life the battery on the Max seems to go fairly quickly in comparison to the original but other that that it seems to be a decent machine so far I'm about to get another original I think though
06/10/2022
Milad G.

Canada
It's not really good I thought. It was better at the first but now it's not good